Jan 3 2015
This week's random image is of an old modern barn I found exploring the gravel farm roads just north of Mexico, Missouri.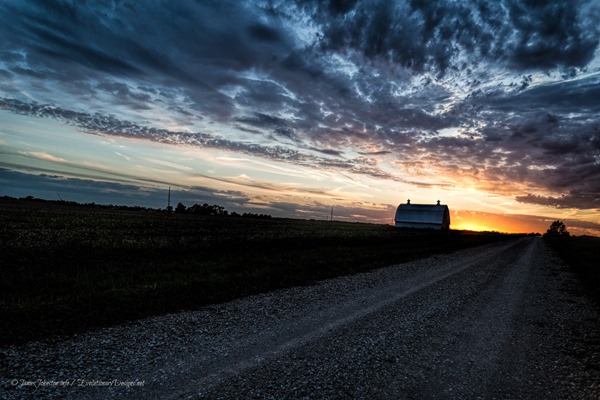 Back Roads Modern Barn near Mexico, Missouri
Last October work sent me to Missouri for a week several times. During that time there I noticed they had a different style barn than in the south and have wanted to capture their style during a sunset or during a storm.
On my second trip north, they sent me to the small town of Mexico, Missouri for the week. Since I had over a week to plan this trip, I picked out some potential areas to explore when I got into town and on my way out of town.
Since I was given two days to get into town, I planned it so I got there with a few hours of sunlight left so I could explore some of the rural areas around town.
I found that as I drove north the land became flatter and more rural. If ever make up that way again, I plan exploring farther north. It looks more interesting southern Missouri.
As traveled further north, I spotted several large barns in the distance. I decided to head down the gravel road nearest me and begin my search for the perfect barn to shoot.
That's when I passed this modern barn, near Mexico, Missouri. Although I say its modern, its been here a while. I have no clue what it stores, it could be the large tractors that work these large fields or it could store something else.
I took about 10 shots of the building with the sunset backlighting it and headed back to the hotel.
About the Image
I shot this image as as the remaining sunlight was fading by hand with my Sony Nex-3N and a Sony SEL16F28 16mm f/2.8. I then edited the image in Adobe Lightroom. Next, I post processed with Topaz Clarity to add texture, brighten, and bring out the details in the image. Then I removed the dust spots. Finally, I used Topaz DeNoise to remove the noise from the image.
The following two tabs change content below.
James spends most of his free time using social media and loves to teach others about design, web development, CSS, SEO, and social media. He is addicted to Wordpress, social media, and technology. You can find him his business website ,
Evolutionary Designs Blog
or his or his personal site,
personal site
Do not forget to follow him on Twitter
@element321