Sep 16 2014
This week's random image is another favorite image from the Invasion Car Show 2014. Its an abstract shot of Lucky's Rod & Kustom Chevrolet 210 Kustom Shop Car.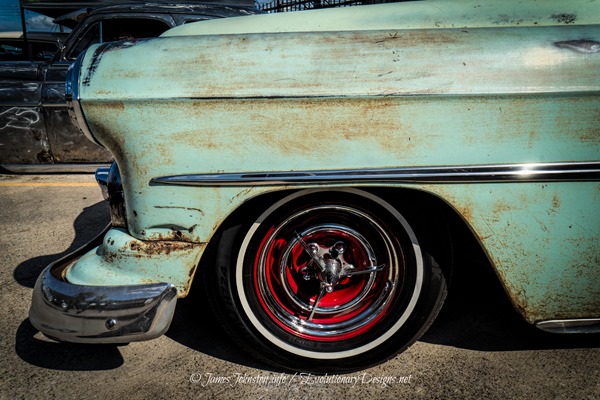 Lucky's Rod & Kustom Chevrolet 210 Kustom Shop Car
The last few years that I have been to the show, this kustom Chevrolet 210 rat rod has been there and I have to say I love it. Its one of my favorites rides and every time I see an old Chevrolet 210 on the road or sitting in the field I so want to build a rat rod like this one. I love this old 40s and 50s paint color and the rusted patina paint job with the nice and shiny chrome/red rims. Then the owners slammed it. I don't car if its fast, but it does look good. This is just one of the old rat rod styles I would love to build. To see more images from past and present Invasion Car Show, check out my personal blog or my Flickr album.
About the Image
The image was shot by hand with my Sony Nex-3N and a Sony SEL16F28 16mm f/2.8. Although it was bright, it was after 4pm and the sun was casting crazy shadows on my subjects. Next year, maybe I will take a slave flash with me to bounce some extra light on the subject to remove some of those shadows. I then edited them in Adobe Lightroom. Then I post processed the image with Topaz Labs Clarity to add more texture, remove shadows, boost brightness and contrast.
The following two tabs change content below.
James spends most of his free time using social media and loves to teach others about design, web development, CSS, SEO, and social media. He is addicted to Wordpress, social media, and technology. You can find him his business website ,
Evolutionary Designs Blog
or his or his personal site,
personal site
Do not forget to follow him on Twitter
@element321