Mar 4 2014
This week's random picture is of a abandoned gutted farm house I spotted off Interstate 35 near Italy, Texas, but never could figure out how to get to it (should have pulled it up on on the maps).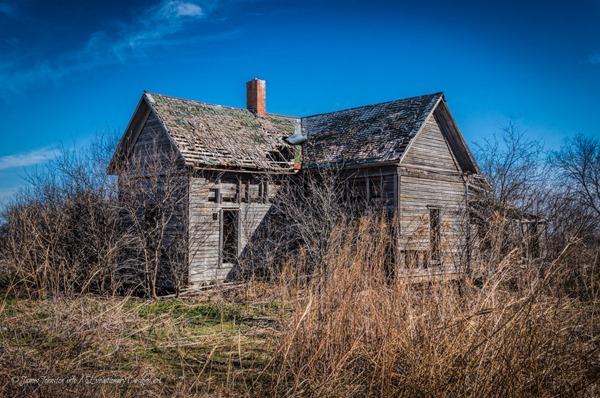 About The  Abandoned Farm House
On Hwy 77 just west of Italy, Texas is where I found access to this old farm house off a muddy dirt road surrounded by abandoned fields. Its between Italy and Milford. Sections of the floor are falling in and the interior of the house has been gutted.
Since the roof is mostly missing, the floors and much of the interior walls have rotted out. The porches that surround most of the house have already collapsed and makes it pretty hard  get inside.
Due the age of the house and how long it has sat abandoned, it is unsafe and will probably collapsed or be bulldozed sometime in the next few years.
About the Image
I took this shot by hand with my Sony Nex-3N with the pancake kit lens, then processed it with Adobe Lightroom to crop, straightened, and remove dust spots from the image. Then I post processed the image with Topaz Labs Clarity to add more texture, remove shadows, boost brightness and contrast.
The following two tabs change content below.
James spends most of his free time using social media and loves to teach others about design, web development, CSS, SEO, and social media. He is addicted to Wordpress, social media, and technology. You can find him his business website ,
Evolutionary Designs Blog
or his or his personal site,
personal site
Do not forget to follow him on Twitter
@element321